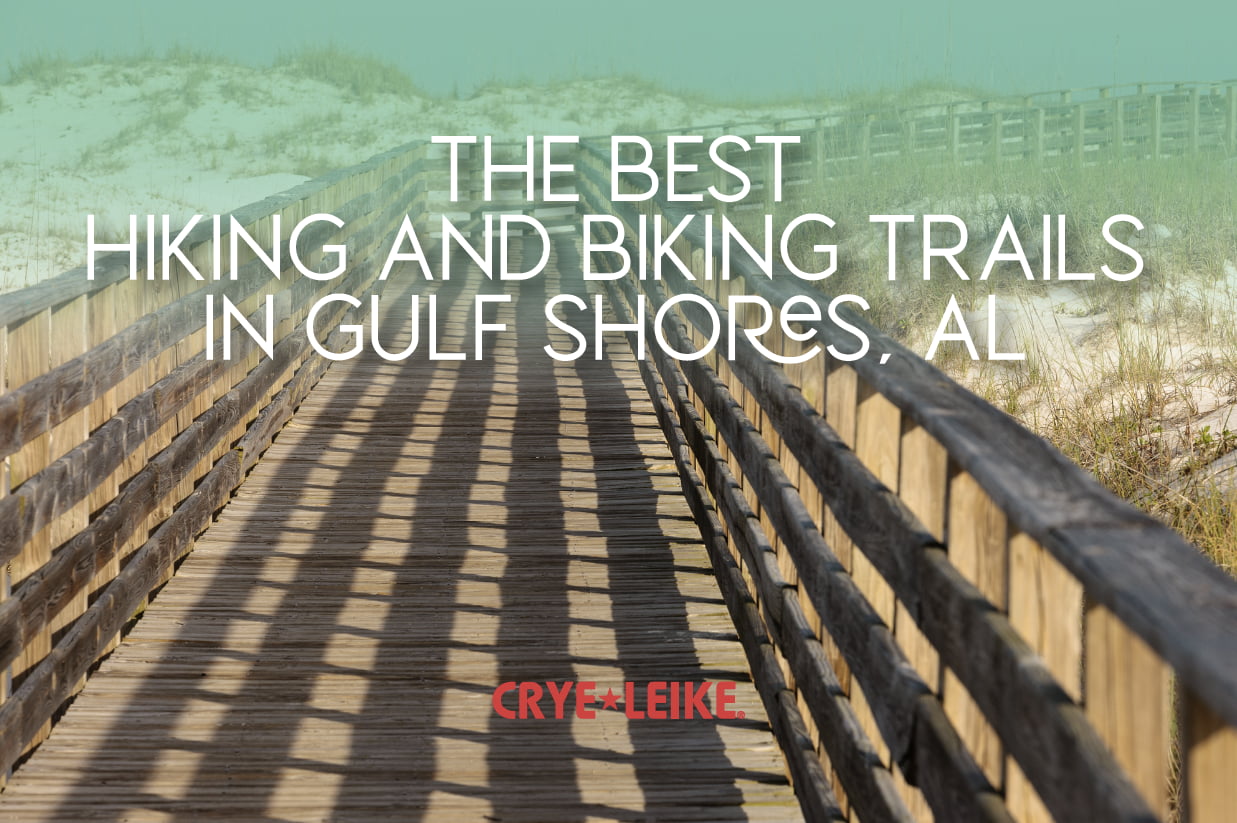 A Guide to the Best Hiking and Biking Trails in Gulf Shores, AL
Gulf Shores, Alabama is a captivating coastal haven, offering not only pristine beaches but also a treasure trove of scenic hiking and biking trails. Whether you're a seasoned adventurer or a casual explorer, Gulf Shores promises a diverse array of terrains and ecosystems, making it the perfect destination for outdoor enthusiasts.
Read on as we explore the top hiking and biking trails that showcase the natural beauty of Gulf Shores, from serene maritime forests and tranquil wetlands to vibrant coastal dune ecosystems. Prepare to be captivated by the Southern charm and breathtaking landscapes that await you in Gulf Shores, Alabama.
Hugh S. Branyon Backcountry Trail
Explore the exciting wilderness and stunning scenery of the famous Hugh S. Branyon Backcountry Trail. Recently voted the best recreational trail in the country for 2023, it's easy to see why this 28+ mile paved trail system is such a crowd-pleaser. The trail spans across the 6,150 acres of Gulf State Park and offers multiple trailheads to easily explore and appreciate the stunning diversity of Alabama's natural landscapes.
The Hugh S. Branyon Backcountry Trail offers activities for both experienced hikers and biking enthusiasts. This multi-use trail system creates endless opportunities to discover the hidden gems of nature. Follow the path through the majestic wetlands, sandy dunes and verdant forests, and enjoy the scenic views that Gulf Shores has to offer. You can customize your trail experience based on your preferences- it can be an easy Sunday stroll or a challenging workout.
Eastern Shore Trail
Experience the thrill of captivating bay views and lush oak-canopied paths along Eastern Shore Trail – the perfect destination for cycling enthusiasts, joggers, and ultimate nature lovers. This trail is the place to be if you're looking for an epic outdoor adventure and the chance to connect with local small businesses.
Eastern Shore Trail extends nearly 23 miles, showcasing the region's diverse and panoramic views. The trail consists of a range of pedestrian-friendly paths, including sidewalks, asphalt, elevated boardwalks, low bridges, and marked crosswalks, making it perfect for all levels of skill.
As you venture through the winding paths of the trail, prepare to take a break, shop, or simply enjoy your scenic surroundings. The Eastern Shore Trail immerses you in the natural beauty of the Eastern Shore region and highlights its rich history and culture.
Whether you're a local or a visitor, Eastern Shore Trail is a must-experience outdoor destination that provides limitless adventure and connects you with the heart and soul of the community.
Fort Morgan Road Trail
Hop on and explore the Fort Morgan Road Trail, where you can immerse yourself in the coastal charm and natural beauty of Gulf Shores! This scenic 5-mile paved path starts near Gulf State Park and takes you through charming neighborhoods, with beautiful views of tree-lined streets and vintage homes. If you're into biking or hiking, you'll love exploring this trail. After finishing the trail, take a break and revitalize your mind and body by enjoying some refreshments at the Peninsula Golf Club.
While the eastern end of the trail has a few small hills, it's relatively easy and flat which makes it an excellent choice for beginners and families. To extend your adventure, be sure to explore the Hugh Branyon Backcountry Trails near the eastern end of the trail. There's so much natural beauty to discover in Gulf Shores.
Book Your Gulf Shores Rentals Today
Whether you prefer hiking, biking or both, Gulf Shores has plenty of scenic trails to explore. From the Hugh S. Branyon Backcountry Trail to Eastern Shore Trail, to the Fort Morgan Road Trail, you're sure to find a trail that suits your skill level and interests.
Book your stay at one of our Gulf Shores vacation rentals, strap on your hiking boots or grab your bike, and hit the trails!
---
Commonly Asked Questions About Hiking and Biking in the Gulf Shores
Are there any hiking trails in Gulf Shores that are suitable for beginners?
Yes! The Hugh S. Branyon Backcountry Trail and the Fort Morgan Road Trail are both great options for beginners. These trails are mostly flat and have well-maintained paths that are easy to navigate.
Where can I rent equipment for biking in Gulf Shores?
Gulf Shores has several bike rental shops, including Orange Beach Bike Rentals, Gulf Shores Bike Rentals, and Gulf State Park Boats and Bikes. You can rent bikes for the day or for your entire stay.
Is it possible to hike or bike on the beach in Gulf Shores?
Biking is not allowed on the beach in Gulf Shores, but there are several nearby trails that offer stunning views of the coast and beach area. As for hiking, it's important to stay on the designated trails to protect the fragile dune ecosystem, but you can still enjoy some gorgeous views of the Gulf of Mexico from the trails.