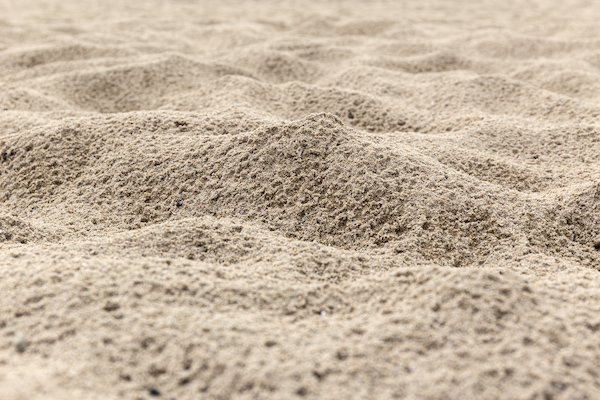 Top 10 Indoor Activities in Orange Beach for Rainy Days!
October, 18 2023
The white sandy shores and crystal-clear waters of Orange Beach beckon many with the promise of a sun-soaked holiday. However, nature can be unpredictable and sometimes the sunny skies might cloud over, especially during the rainiest times of the year. No need to pack up your beach gear and head home disappointed; Orange Beach indoor activities are a reminder that this area has more to offer than just its beautiful coastline.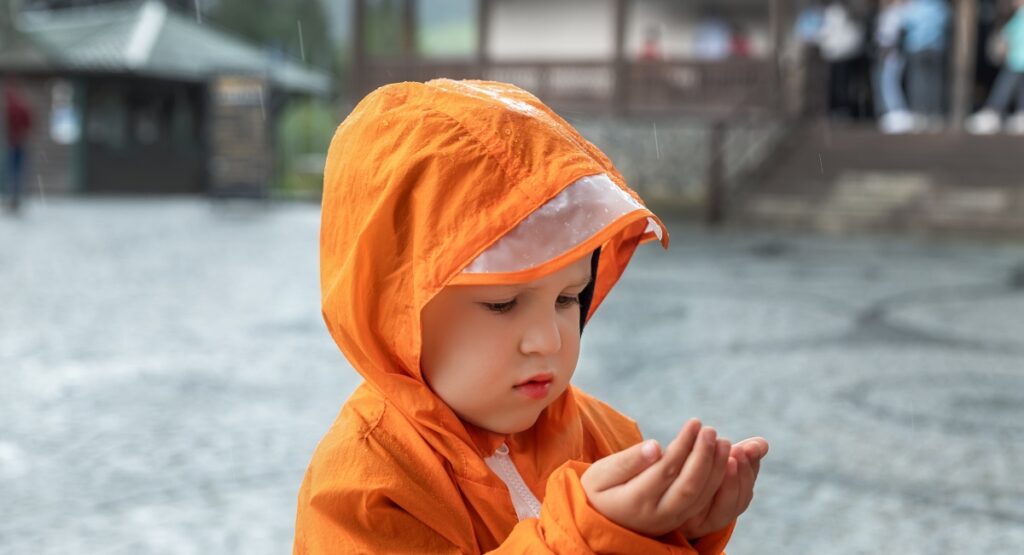 Orange Beach Weather
Anyone who's been to Orange Beach knows the sunshine is a major crowd-puller. Sure, we get our fair share of sun-kissed days, but come late summer through early fall, you might find yourself reaching for an umbrella more often. But here's the silver lining! Those unpredictable rain showers have given rise to a treasure trove of indoor fun.
Venture Beyond the Beach
For those who think Orange Beach is just a paradise with sun and sand, think again. Dive into a world of art, culture, shopping, and many indoor activities. Whether you're nestled in one of the many places to stay in Orange Beach, AL, or simply passing by, there's something for everyone. Here is a list of 10 fun indoor activities in Orange Beach, Alabama: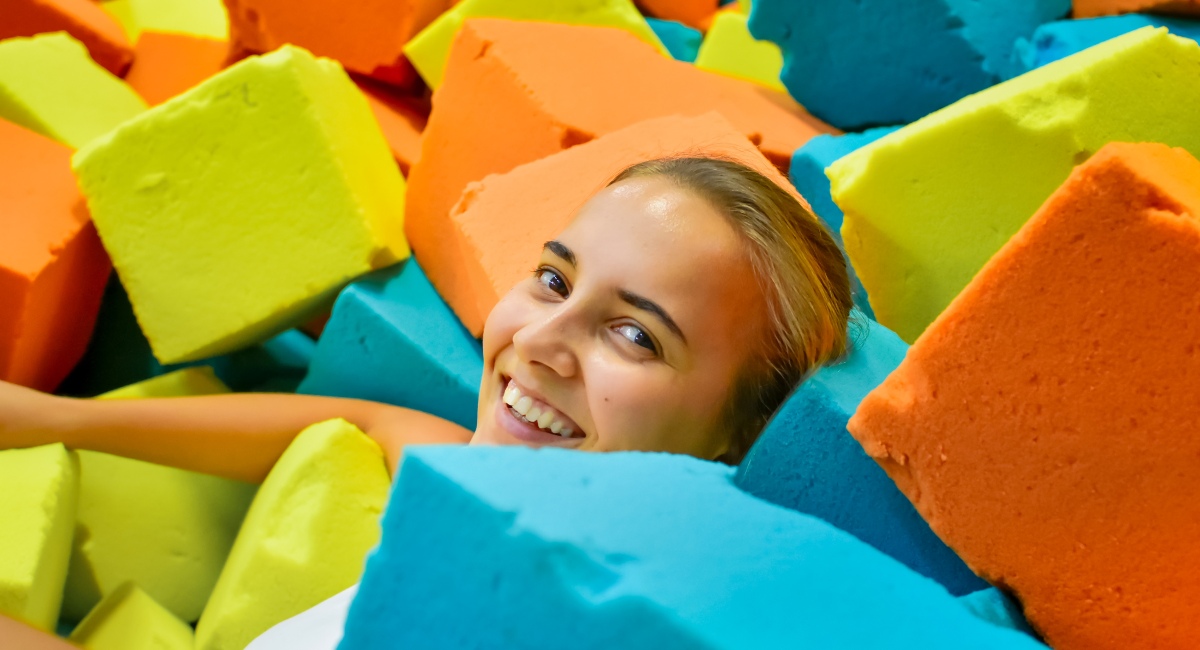 1. The Factory in Gulf Shores
Leave the umbrellas behind and bounce away on an array of trampolines. Suitable for kids and adrenaline-seeking adults! The Factory isn't just any ordinary venue—it sprawls over 12,000 square feet of interconnected, state-of-the-art trampolines.
Visitors are spoiled for choice with batting cages fitted with advanced pitching machines, exhilarating foam pits, and challenges like trampoline dodgeball and basketball. The arcade corner provides a sprinkle of nostalgia for game enthusiasts.
Ideal for events ranging from birthday parties to corporate functions, The Factory also offers enticing group discounts. With special events like teen nights, munchkin jumps, and thrilling dodgeball tournaments, every visit promises a unique adventure.
Address: 18948 Oak Rd. W. Gulf Shores, AL 36542
2. Arena the Next Level at The Wharf
Nestled in the vibrant heart of The Wharf in Orange Beach Arena, the Next Level offers adrenaline-packed games of laser tag and bazooka ball. It is designed with safety in mind, making it enjoyable for all age groups.
This place is not just a gaming hub—it's an experience where excitement is guaranteed. It seamlessly fits into any plan, including a family outing, corporate event, birthday celebration or vacation adventure. And for those who love melodies with their memories, live music sets the tone during weekends. For more details, booking information, and operational hours, a visit to their website or a quick call is all it takes.
Address – 4720 Main St., Ste. M-205, Orange Beach, AL 36561
3. Fat Daddy's Arcade in Orange Beach
Relive the golden era of gaming. From the addictive pinball to the classic Pacman, and even the new-age interactive games, it's a gamer's paradise. With a lineup of over 80 arcade games, from the thrilling vibes of The Walking Dead and Jurassic Park to the nostalgic feel of Skee Ball and Hoops, there's a game for every age and taste.
And the best part? Once you rack up those points, you can trade them in at their redemption counter for some awesome prizes. Oh, and if you're feeling peckish, grab a slice of pizza and a drink. Whether it's a family day out, a group hangout, or even a birthday bash, Fat Daddy's promises a blast.
Address – 24565 Perdido Beach Blvd., Orange Beach, AL 36561
4. Jurassic Golf in Gulf Shores
As the rain patters outside, play mini-golf amidst the mighty dinosaurs, illuminated under the ethereal glow of black lights. Step into a mesmerizing prehistoric world at Alabama's latest glow-in-the-dark dinosaur-themed mini-golf adventure.
Spanning a vast 5,000 square feet, this 18-hole marvel promises family fun like no other. Conveniently located within the Pelican Place Shopping Center in Gulf Shores, it's a delightful escape from the mundane and into a world of dino delights.
Address – 3800 Gulf Shores Pkwy Ste 142, Gulf Shores, AL 36542
5. Tropic Falls Waterpark
Who said rain stops water fun? Slide, splash, and swim indoors at Tropic Falls! Imagine zipping down 75-foot slides, all under a clever glass roof that adjusts to the weather!
If you're in the mood for some waves, take advantage of Big Water Bay nearby, complete with its own surf simulator and the mesmerizing Coastal Curl wave pool. Tropic Falls is where memories are just waiting to be made! This indoor water park in Alabama features 23 rides and attractions!
Address – 1501 S. OWA Blvd., Foley, AL 36535
6. Outer Limits Game Room
Step out of the rain and into other dimensions with immersive virtual reality experiences. Imagine combining the thrill of an amusement park ride with the magic of virtual reality. That's exactly what you get at Outer Limits VR!
With their state-of-the-art 3D glasses, the games jump out at you, making every spin, twist, and turn feel incredibly real. It's a place where everyone in the family can find their slice of fun, catering to those who are at least 44″ tall and under 300 lbs. Just looking for a quick adventure? Feel free to walk in – rides are first come, first served.
Address – 4700 Main St. N101, Orange Beach, AL 36561
7. XIT Escape Room & Breakout Games
The clock is ticking. Can you piece together the clues and break free? It's a challenge of wits and teamwork. Tucked away in Pelican Place near Gulf Shores Pkwy, XIT Escape Room is a whole adventure packed into 60 thrilling minutes.
Dive into a whirlwind of riddles, clues, and brain teasers with your pals, trying to beat the ticking clock! It's not just about escaping; it's about the laughs, the 'aha!' moments, and that sweet rush of adrenaline.
Address – 3800 Gulf Shores Pkwy., Ste. 152, Gulf Shores, AL 36542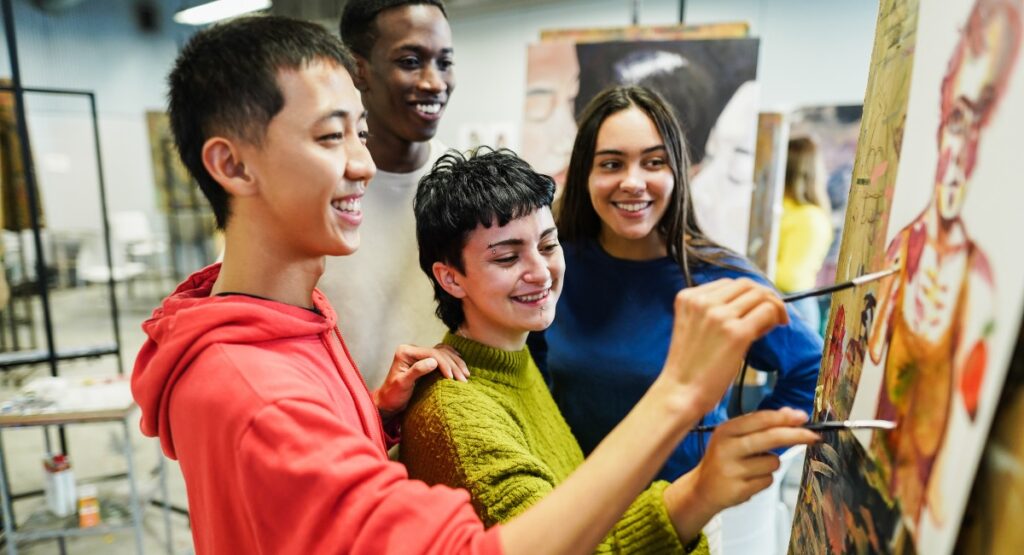 8. Coastal Arts Center of Orange Beach
From pottery wheels to the mesmerizing dance of molten glass, express yourself and create something beautiful. Overlooking the serene Wolf Bay and spread across four acres, the Coastal Arts Center of Orange Beach presents a unique waterfront art experience.
Visitors can marvel at the exquisite fine arts gallery, showcasing the talents of local Gulf Coast artists. Those with a flair for hands-on artistry can venture into the Hot Shop to blow their own glass or shape their imaginations in the Clay Studio.
While the center boasts no admission fee, personalized art classes are available by appointment, with prices starting at $85.00. Additionally, the venue shines as an idyllic destination wedding location. It offers enriching summer art camps and after-school programs for budding artists.
Address – 26389 Canal Rd., Orange Beach, AL 36561
9. Gulf Coast Arts Alliance
Witness the magic that local hands create, from intricate paintings to sculptures echoing the heart of Orange Beach. This passionate non-profit isn't just about hanging art on walls and building and nurturing a community. In their cozy gallery, you'll find the heart and soul of over 50 local artists, each piece telling its own story.
If you find yourself wandering down to the Waterway Village on the right day, you might just stumble upon their Art Markets, a lively space where artists get to share their passion with locals. And if you've ever fancied trying your hand at art or even playing a stringed instrument, they've got you covered with their classes.
Address – 225 E. 24th Ave.,Gulf Shores, AL 36542
10. Visit Local Museums
Head to Orange Beach History Museum to discover coastal Alabama's Native American and fishing heritage. Located in a charming building that began its life in 1910 as a schoolhouse, the Orange Beach History Museum is a heartwarming nod to the town's rich past.
After relocating to its current spot in 1999, the museum has become a cherished space, brimming with stories of the area's Native American origins and age-old fishing traditions. With thoughtful touches like accessible ramps and handrails, everyone's welcome to take this nostalgic journey. And the best part? No entrance fees and plenty of parking make it a breeze to visit.
Address – 25805 John M. Snook Ave., Orange Beach, AL 36561
Rain or Shine, Orange Beach is Waiting to be Explored
Orange Beach offers so much more than its pristine shores and sunlit waves. It's a treasure trove of indoor delights, each activity offering its own unique charm. From the pulsing beats of arcade games to the serene strokes of local artistry, there's a world waiting to be discovered beyond the sandy beaches. And when the occasional raindrop falls, remember: it's simply nature's nudge to explore the gems tucked away from the coastline.
Ready to dive into all the adventures Orange Beach has in store? Don't wait! Secure your very own slice of paradise by booking your Orange Beach vacation rental today.